French Buttercream Macarons
Jump to Recipe
If you're a fan of sweet, light, and airy cookies that practically dissolve on your tongue, then homemade French macarons with vanilla buttercream filling are the ultimate treat for you! These delicate cookies are not only a feast for the eyes but also a delight for the taste buds. Get ready to embark on a macaron-making adventure that will have everyone begging for more!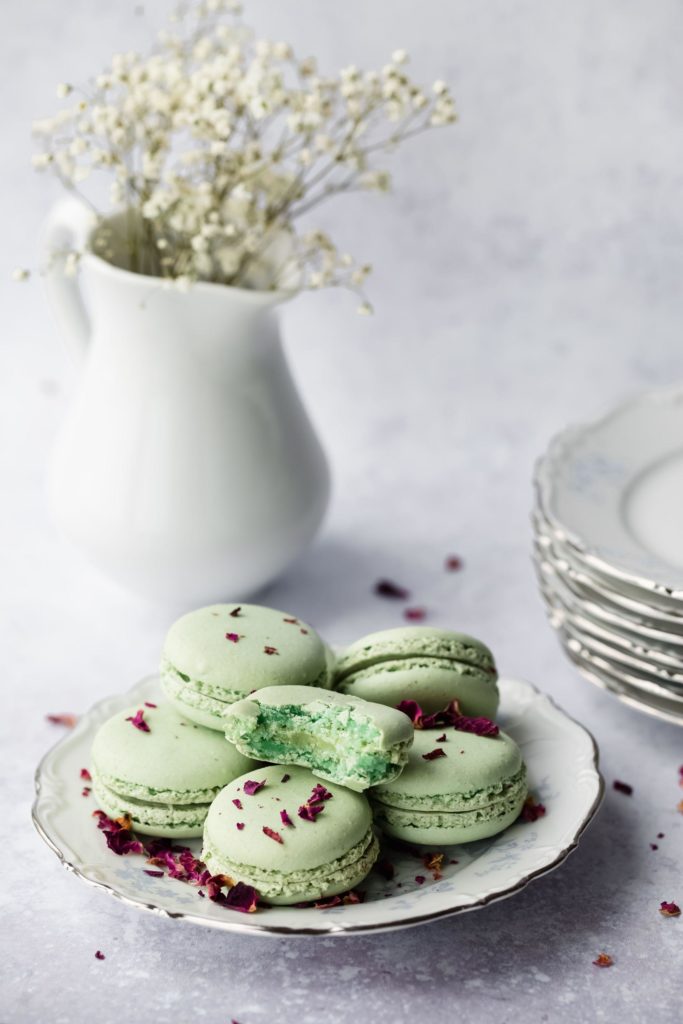 Why You'll Love Homemade French Macarons
Classic and Pretty Cookies
Macarons are the epitome of delicate elegance. Their smooth shells, adorned with the perfect feet, are a visual delight. And the best part? These gluten-free cookies cater to your sweet cravings without any guilt. What's more, they freeze beautifully, allowing you to satisfy those last-minute sugar hankerings with ease. They also make stunning gifts for your loved ones, showcasing your baking skills and spreading joy.
Perfect for Any Occasion
When it comes to celebrating love, French macarons are a top choice. Whether it's Valentine's Day, a bridal or baby shower, or simply an occasion to indulge, you can't go wrong with these classic treats. The French have mastered the art of creating desserts that capture hearts, and macarons are no exception. They symbolize love, sweetness, and the joy of sharing something special with the people you care about.
Cheaper to Make at Home
As much as we adore macarons, buying them individually can put a strain on the wallet. At around $5 per cookie, the costs quickly add up. But fear not! With a little practice and the right recipe, you can whip up a batch of homemade macarons that rival those from fancy French bakeries. Not only will you save money, but you'll also revel in the satisfaction of creating these delectable treats with your own hands.
Equipment
To embark on your homemade macaron journey, gather the following essential tools:
Measuring Cups and Spoons or a Kitchen Scale: Accurate measurements are key to achieving consistent results.
Mixing Bowl: Use a large mixing bowl to combine your ingredients and create a smooth macaron batter.
Piping Bag and Large ½ Inch Round Tip: This duo will help you achieve those perfectly shaped macaron shells.
Silicone Baking Mat or Parchment Paper: Line your baking sheets with a silicone mat or parchment paper to prevent sticking and ensure even baking.
Large Half Sheet Baking Pan: This sturdy baking pan provides ample space for your macarons to spread and develop their signature feet.
Wire Cooling Rack: Allow your macarons to cool completely on a wire rack, ensuring they retain their delicate texture and shape.
With your equipment at the ready, it's time to dive into the step-by-step process of creating homemade French macarons that will impress both your eyes and taste buds.
French Buttercream Macarons
Cuisine: Dessert, French
Difficulty: Difficult
Ingredients
For the macaron shells:

¾ cup of almond flour

1 cup of confectioners' sugar

2 large egg whites, at room temperature

¼ cup of granulated sugar

½ teaspoon of pure vanilla extract

1-3 drops red or pink food coloring (optional)

For the vanilla buttercream filling:

1 1/4 Cups almond flour

¾ cup + 2 tablespoons of confectioners' sugar

1 teaspoon of milk

½ teaspoon of pure vanilla extract
Directions
Prepare the Macaron Shells:
In a bowl, combine almond flour and confectioners' sugar, then whisk them together. Use a fine-mesh sieve to remove any clumps.
Using a hand-mixer or stand-mixer on medium speed, beat the egg whites for about 2 minutes until soft peaks form. Gradually add granulated sugar and continue beating on high for 2 more minutes until stiff, glossy peaks form.
Add vanilla extract to the mixture and beat on high for an additional 30 seconds.
Gently fold in the dry ingredients, repeating the process until the mixture is smooth, shiny, and without any visible dry ingredients. The consistency should resemble flowing lava, so be careful not to overfold.
Fill a pastry bag fitted with a ½ inch round tip with the batter.
Line two baking sheets with parchment paper and pipe the batter into ¾-inch round circles, leaving about 1 inch of space between each circle.
Firmly tap the baking sheets on the counter to remove any air bubbles.
Allow the piped macarons to sit at room temperature for approximately 30 minutes until a skin forms on the surface.
Preheat the oven to 325°F (163°C).
Bake the macarons for 10-12 minutes, rotating the baking sheets halfway through, until the cookies have risen and are just set. They should easily lift off the baking sheets.
Let the macarons cool for 5 minutes, then transfer them to a wire rack to cool completely.
Prepare the Vanilla Buttercream Filling
In a bowl, cream the butter using a hand mixer or stand mixer until it becomes soft and smooth.
Add powdered sugar, milk, and vanilla extract to the bowl and mix until the filling becomes light and fluffy.
Assemble the Macarons:
Transfer the prepared buttercream filling into a piping bag fitted with a round tip.
Pipe a swirl of filling onto half of the macaron shells.
Gently sandwich the remaining macaron shells on top of the filling.
Recipe Video
Notes
Avoid overfolding the macaron batter as it will result in a runny consistency, causing the shells to spread out and lose their shape. This can lead to flat and "feetless" macarons or even hollow ones.
Similarly, underfolding the batter will also affect the macaron shells. They may rise excessively and develop cracks or have pointy tops. To prevent cracking, gently tap the tray with the piped macarons on the counter to release any trapped air bubbles and help achieve smoother shells.
Proper storage of macarons is essential for maintaining their freshness. Store them in an airtight container at room temperature for up to 24 hours. For longer storage, refrigerate them for up to 3 days or freeze them for up to 6 months.
When doubling the macaron recipe, it is advisable to make two separate batches rather than simply doubling the ingredients in one batch. This ensures better control over the mixing process and results in consistent macaron shells.
If you're looking to explore different fillings for your macarons, consider options beyond buttercream. Experiment with salted caramel sauce, strawberry jam, or luscious chocolate ganache as alternative fillings to add variety and deliciousness to your macarons.