Blueberry Buttermilk Pancakes
You've come to the right place if you enjoy pancakes and want a delicious breakfast treat. I'll demonstrate how to make the best blueberry buttermilk pancakes from scratch in this article. I've set out on a personal quest to learn the secrets to making fluffy, tender, and gorgeous golden brown pancakes. Let's flip some pancakes together as we embark on this culinary adventure!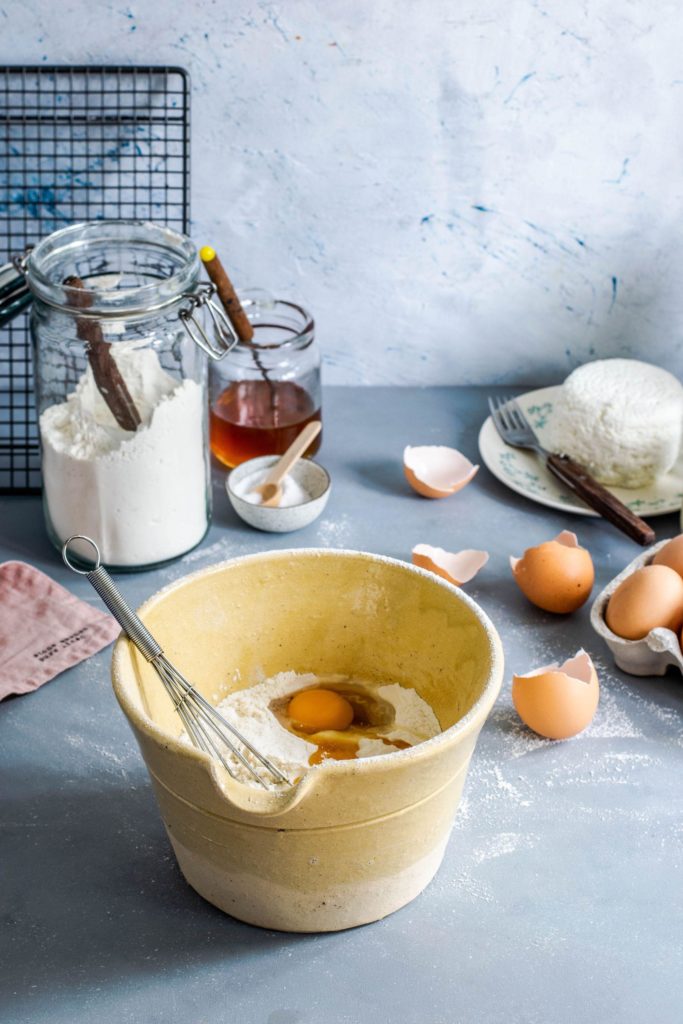 The Conundrum of Making Pancakes
There is more to making pancakes than first appears, despite how simple it may seem. You see, finding the perfect balance between lightness and fluffiness requires some finesse. Not over-mixing the batter is one of the important considerations. If you overdo it, you might end up with tough, dense pancakes that no one wants to eat. So keep in mind to stop just as the ingredients start to combine and gently fold them together.
Measuring Matters
When it comes to pancakes, precision in measurement is crucial. To ensure consistent results, I recommend using the spoon and level method for measuring flour. Simply use a spoon to scoop the flour into the measuring cup and level it off with a straight edge. This way, you avoid packing in too much flour, which can make your pancakes heavy and dry.
The Magic of Buttermilk
Let's now discuss buttermilk, the key component that raises pancakes to new heights. Your taste buds will dance with delight when buttermilk is added to pancake batter because of its incredible fluffiness and tenderness. The lactic acid in buttermilk reacts with the leavening agents, resulting in those delightful, airy pancakes we all love. So, be sure to stock up on buttermilk for your pancake adventures!
Bursting with Blueberry Goodness
What's a stack of buttermilk pancakes without a burst of juicy blueberries? Adding blueberries takes these pancakes to the next level, providing a sweet and tangy flavor explosion in every bite. Now, the question arises: should you use fresh or frozen blueberries? The answer is, both options work beautifully! Fresh blueberries are fantastic when they're in season, while frozen blueberries can be a convenient and equally delicious choice year-round.
Freezing and Reheating Pancakes
Picture this: you've made a big batch of blueberry buttermilk pancakes, but there are a few left over. You can save them for later, my friend, so don't worry! Pancakes should be stacked one on top of the other on a baking sheet and frozen until firm. Once frozen, you can keep them in a freezer-safe bag or container for long-term storage.
There are several methods for reheating frozen pancakes when you're ready to eat them. For a crispy texture, you can use the oven, the microwave, or even the toaster. Whatever approach you take, watch them carefully to avoid any unwelcome burnt edges.
Blueberry Maple Pancakes
Cuisine: Breakfast
Difficulty: Easy
Ingredients
For the Blueberry-Maple Syrup:

1 cup of maple syrup

1½ cups of fresh blueberries (divided)

1 tablespoon of fresh lemon juice (from one lemon)

For the Blueberry Pancakes:

2 cups of all-purpose flour (spooned into measuring cup and leveled-off)

2 tablespoons of sugar

1 tablespoon of baking powder

½ teaspoon of baking soda

1 teaspoon of salt

2 large eggs

2¼ cups of buttermilk (see note)

4 tablespoons of melted butter

1 cup of fresh blueberries

2 tablespoons of vegetable oil (for cooking)
Directions
For the Blueberry-Maple Syrup:
In a small saucepan, combine the maple syrup, 1 cup of blueberries, and lemon juice.
Bring the mixture to a boil, then reduce the heat to medium and allow it to gently boil for approximately ten minutes.
Let the syrup cool until it reaches lukewarm temperature, and then stir in the remaining ½ cup of blueberries.
For the Blueberry Pancakes:
In a large bowl, whisk together the all-purpose flour, sugar, baking powder, baking soda, and salt.
In a separate medium bowl, beat the eggs. Whisk in the buttermilk and melted butter.
Pour the buttermilk mixture into the dry ingredients and whisk until the dry ingredients are just moistened. Avoid over-mixing; the batter should have a few lumps. Note that the batter will be thick, and as it sits, the leavening will activate, creating air bubbles.
Heat a griddle or nonstick pan over medium heat and lightly coat it with vegetable oil.
Drop approximately ⅓ cup of batter from a measuring cup or large spoon onto the griddle, and place 6 to 8 blueberries on each pancake.
Cook until bubbles form around the edges of the pancakes and the first side is golden brown, which should take about 2 minutes.
Flip the pancakes and cook the other side until it turns golden brown as well. Keep a close eye on them, as they cook quickly.
Adjust the heat if necessary.
Between batches, wipe the griddle clean with a paper towel.
Serve the pancakes immediately with the blueberry-maple syrup.
Recipe Video
Notes
If you don't have buttermilk, you can easily make your own using an alternative method.